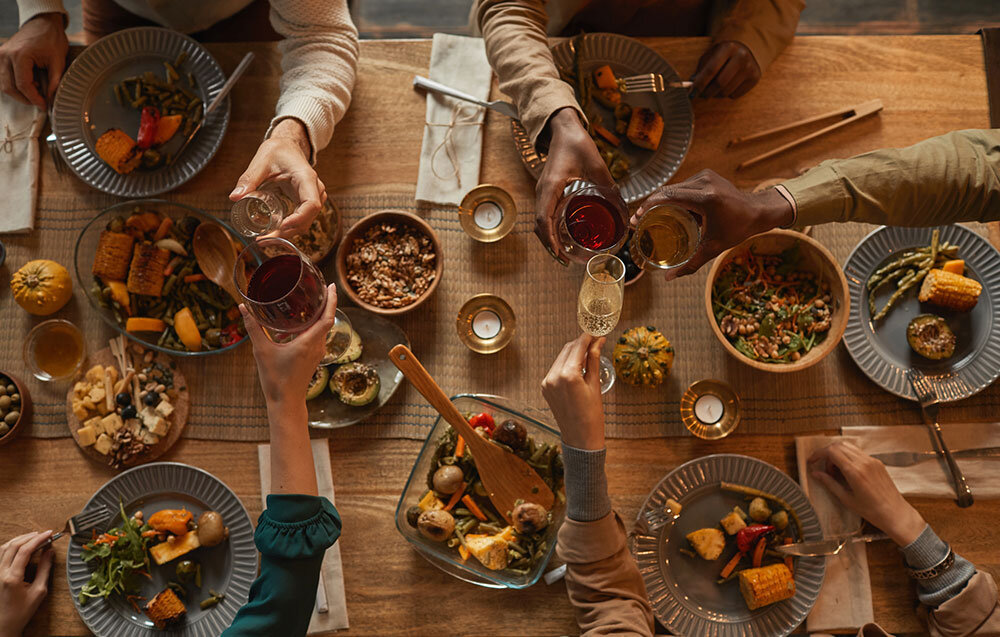 Favorite Holiday Recipes for Easy Entertaining
Now that festive season is upon us it seemed the perfect time to share a few of our easiest recipes! They're absolutely delicious, take little work (much of which can be done in advance) and basically everyone loves them!
First up, Prosciutto Wrapped Asparagus. These are so good that when we serve them at events we always hope for leftovers…but we rarely get any!
Prosciutto Wrapped Asparagus
Recipe:
1 lb asparagus
3-4 oz thinly sliced prosciutto
3-4 oz room temperature garlic & herb goat cheese
1 teaspoon lemon zest
1 tablespoon olive oil
Salt & Pepper to taste
Balsamic Glaze (not balsamic vinegar) or Shaved Parmesan (optional)
Directions:
Trim the bottom of the asparagus by 2"-3" then salt and pepper to taste. Toss with olive oil and roast for 10 min at 350 degrees.
Bundle 2-3 asparagus spears and spread with the room temperature goat cheese and a sprinkle of lemon zest. Keep the cheese below the asparagus tip and stop at least an inch from the bottom.
Wrap each asparagus and cheese bundle with one slice of prosciutto.
As a finishing touch, drizzle with balsamic glaze or sprinkle with shaved parmesan.
Everything can be prepped up to 1 day in advance if kept refrigerated in an air-tight container. Just wait to add the balsamic drizzle or shaved parmesan until you're ready to serve.
If you decide to skip the balsamic or parmesan, use a little extra lemon zest as a garnish.
Salmon Panini
This hors d'oeuvre looks fancy but it couldn't be easier if you use our super-secret catering trick.
Recipe:
6 slices brioche bread
6-8 oz salmon gravlax
8 oz cream cheese, room temperature
2 tbsp finely chopped dill
1 tsp garlic powder
1 tsp onion powder
1 tbsp butter
1 tbsp crème fraiche or sour cream (optional)
1 tbsp caviar (optional)
Directions:
Toast the bread by melting the butter in a sauté pan. Place each slice of bread in the pan without overcrowding (may have to be done in batches) and toast until golden brown, about 2-4 minutes. Toast one side only.
While the toast rests, mix the cream cheese, dill, garlic powder and onion powder.
Spread a layer of the cream cheese on 3 pieces of toast (untoasted side), then top each with a layer of gravlax. Make a complete sandwich using the remaining 3 pieces of bread.
When the bread is completely cooled wrap tightly in parchment or plastic wrap and place in freezer for 1 hour.
Now for our super secret catering trick- after an hour in the freezer, when the sandwich is lightly frozen, remove from the wrap and cut to your preferred hors d'oeuvre size. We use a round cutter, but a sharp knife can be used to make squares or triangles. The light freeze helps keep your edges sharp.
When it's time to serve, pre-heat the oven to 350 degrees and warm the petite sandwiches for about 5 minutes. It's important to get the bread warmed and crispy again, but don't melt the cheese or heat the salmon.
When the sandwiches are removed from the oven, place a small dollop of crème fraiche and caviar on each one.
You can do steps 1-5 up to one day in advance. Just refrigerate the cut panini until it's time to serve and complete steps 6 & 7.
Cheese, Fruit & Charcuterie
This isn't a recipe, really, it's more about presentation. For groups of 50+ guests we've been doing a more organic presentation rather just a single cheese board. 
You start with butcher paper, add pieces for height and then begin arranging. And in addition to the traditional offerings, we like to add some new food choices too, so here are some ideas:
Recipe:
3-4 types of cheese: We recommend a mix of soft and medium cheeses, and mix goat and cows milk (we find hard cheeses aren't as popular, but will add it in for larger groups)
2-3 types of cured meats and pâté
Artisan breads- We use multiple loaves, partially sliced (we'll slice more as needed)
grilled Shishito peppers
deviled eggs
pickled vegetables
fresh fruit
Blueberry Old Fashioned
As far as popular cocktails go, it's hard to beat an old fashioned. Our version is an easy to make upgrade.
For the Cocktail:
2 oz bourbon
½ oz blueberry simple syrup
2-3 dashes Angostura bitters
Ice
Orange twist or rosemary sprig, optional
For the Syrup:
½ cup blueberries
½ cup water
¼ cup sugar
Directions:
To make the syrup add the blueberries, water, and sugar to saucepan and boil for 15 – 20 minutes. Remove from heat, strain, and allow to cool. The syrup can keep for up to a week refrigerated, so it's perfect to prep in advance.
To make the cocktail, add the bourbon, blueberry syrup, bitters and ice to a cocktail shaker. Shake until chilled then strain into a double old-fashioned glass, over ice.

 

Add either an orange twist or rosemary sprig if using.